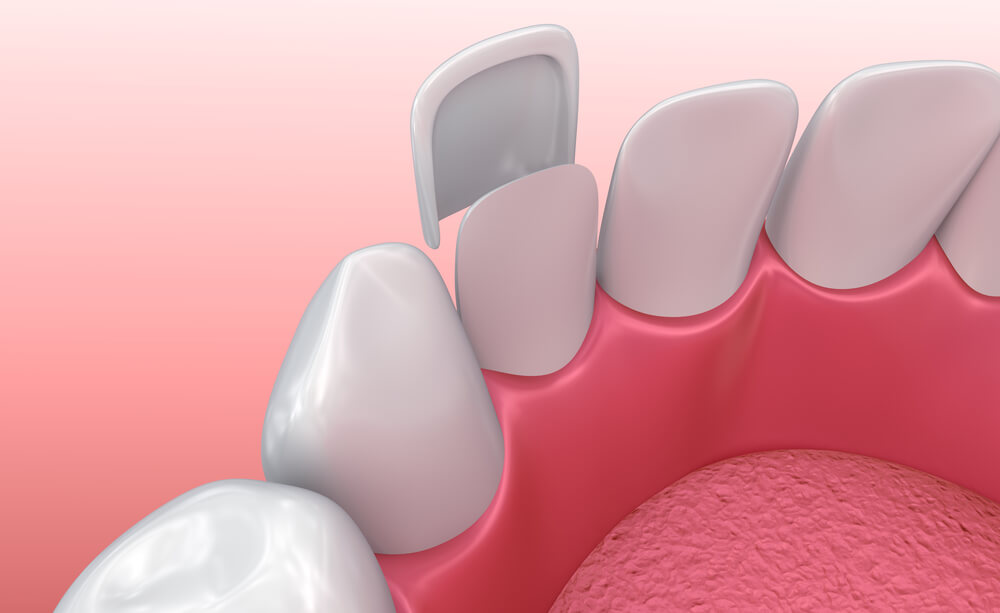 No cosmetic concern is too great or too small to be corrected with dental veneers. In fact, veneers are among the best cosmetic treatment options for completely revitalizing or updating the look of a patient's smile, and we often recommend them to patients who want to significantly upgrade their smile aesthetic. 
What Are Veneers?
Veneers are wafer-thin shells, most commonly made of porcelain but sometimes made of resin or other materials. Dental veneers are permanently fixed to the front surfaces of a patient's teeth to transform the appearance of their smile.
It's important to note that veneers are a permanent cosmetic treatment option that cannot be removed once applied and that need to be repaired or replaced if damaged.
What Issues Can Dental Veneers Address?
Dental veneers are a powerful cosmetic treatment that can go a long way to revitalize, refresh, and completely revamp the aesthetics of a patient's smile. Veneers can be used to:
Fill in tooth gaps
Make teeth appear straighter
Mask stains and other discoloration
Improve smile symmetry
Cover irregularly shaped or sized teeth
Cover chips, cracks, or broken teeth
Cover teeth with excessive wear
Veneers are a purely cosmetic dental treatment, meaning they simply serve to improve the appearance of a smile and do not provide any oral health benefits.
The Process of Getting Dental Veneers
The dental veneer process begins with a consultation with our dentist. During this appointment, Dr. Gerda examines the patient's teeth and talks with them about their treatment goals and expectations. She then works with the patient to glean a thorough and accurate understanding of the patient's current cosmetic smile concerns and the look they desire.
We then work up a custom design for the patient's dental veneers and send this, along with a digital scan of the patient's mouth and teeth, to a dental fabricator for manufacturing.
Once the veneers are ready, we contact the patient and schedule a placement appointment. During this appointment, Dr. Gerda first shaves a thin layer of tooth enamel from the teeth. This makes room for the new veneers to fit snuggly and comfortably over the front of the patient's teeth. We then clean and dry these surfaces and permanently adhere each veneer to its corresponding tooth with dental cement. Once set, the veneer placement is complete, and the patient can head out into the world and start showing off their brand-new smile.
How Long Do Veneers Last? Caring for Your Dental Veneers
On average, porcelain dental veneers last for about 10 to 12 years under normal conditions. This lifespan can be shorter or longer, depending on the wear and tear they receive. You can prolong the life of your dental veneers by:
Not chewing on hard objects or ice
Refraining from using your teeth as tools (i.e., using your teeth to open packaging)
Protecting your teeth from damage due to bruxism with a nightguard
Protecting your teeth from injury during physical activities with an athletic mouthguard
Avoiding highly pigmented foods and drinks
Refraining from all kinds of tobacco use
In addition to safeguarding your veneers with these measures, continue practicing good oral hygiene by brushing gently and flossing regularly.
Comprehensive Cosmetic and Restorative Dentistry in Columbus, Ohio
At Gerda Family Dental, we're proud to provide our patients with comprehensive cosmetic and restorative treatment options. If you have relatively good oral health and are interested in transforming the look of your smile, then dental veneers might be the right treatment option for you.
To learn more about the benefits of dental veneers or to schedule a smile makeover consultation with Dr. Gerda, we welcome you to contact our dental office in Columbus today.