Dental Implants (Full Procedure)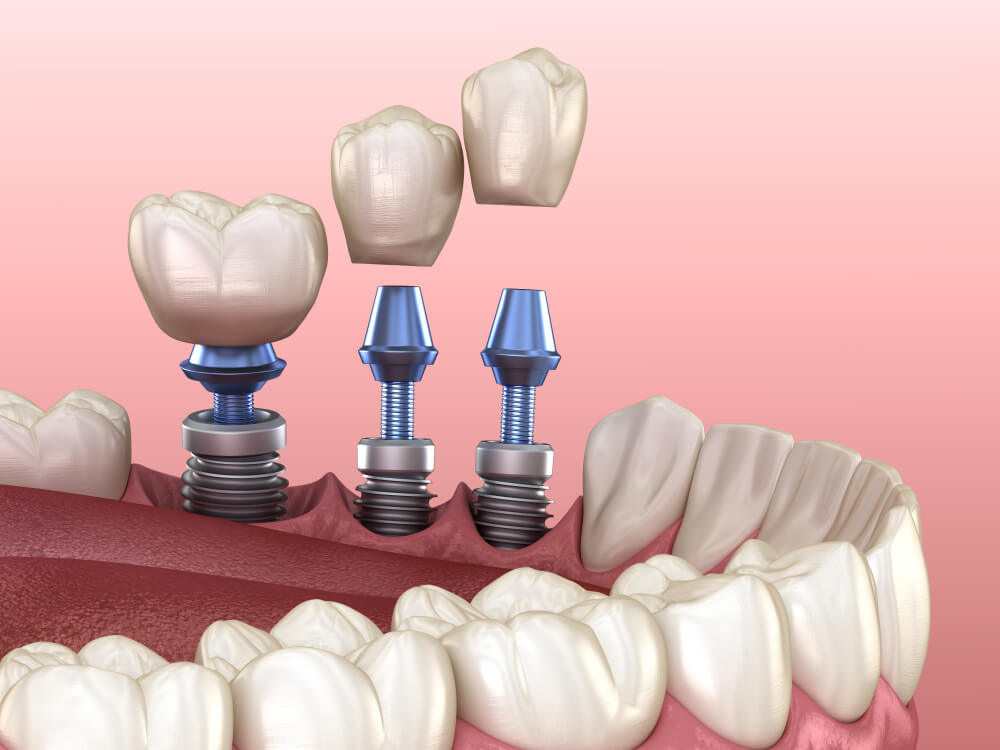 Several tooth-replacement options exist for patients who are missing one or more teeth. Dental implants, however, are among the most popular choice thanks to the superior results they offer patients. 
What Are Dental Implants?
Dental implants are a permanent option for replacing missing teeth. One dental implant consists of three parts:
Dental Implant – This is a screw-like dental device made of biocompatible metal and installed directly in the patient's jawbone to mimic a tooth's natural root.
Dental Abutment – The abutment is also made of biocompatible metal. It connects to the dental implant and secures a permanent tooth replacement in place.
Dental Crown – The dental crown is the only visible portion of a dental implant. It is designed to resemble a patient's natural tooth and is permanently fixed to the dental abutment.
Dental implants are designed to replace teeth on a one-for-one replacement basis, but they can also be used to support dental bridges or dentures to replace several missing teeth with a limited number of dental implants.
Why Choose Dental Implants for Your Tooth-Replacement Treatment?
Dental implants offer several benefits. Of all tooth-replacement options, dental implants look, feel, and function the most like natural teeth. In fact, many patients can't even tell the difference between a dental implant and a natural tooth inside the mouth.
Additionally, dental implants deliver direct stimulation and pressure to the jawbone, which is necessary for the bone to stay healthy and strong. Other tooth-replacement options do not stimulate the jawbone. Over time, the jawbone deteriorates in the empty space beneath the missing tooth, resulting in a changed facial structure and damage to neighboring teeth.
The Dental Implant Process: What To Expect When Getting Dental Implants
At Gerda Family Dental, our office is fully equipped to provide dental implants, and we're highly experienced in guiding our patients through the complete process.
The first step is a consultation with Dr. Gerda. During this consultation, Dr. Gerda examines the patient's mouth, takes a set of digital X-rays, evaluates the patient's jawbone, and discusses treatment goals to determine whether dental implants are the best treatment option for the patient.
Once it is determined that the patient is a good candidate for dental implants, we'll schedule the implant placement procedure (or a bone grafting procedure if necessary).
The dental implant placement procedure takes place in our office with the use of local anesthetics to fully numb the treatment area. During this process, a small incision is made in the patient's gum tissue, and the dental implant is placed in the patient's jawbone.
After placement, a lengthy healing process must take place. During this time, the patient's jawbone will naturally osseointegrate with the screw-like dental implant, creating a secure bond.
Once healed, we can place the abutment. Depending on how the patient's gum tissues heal around the implant, the abutment placement procedure might require an incision and stitches, or it might not. Either way, we ensure the gum tissues are fully healed after placing the abutment before placing a permanent crown.
Once the permanent crown is ready and the patient's gum tissues are fully healed, we place a permanent crown, fixing it permanently to the abutment with dental cement.
Are Dental Implants Right for You?
Dental implants are a popular treatment option for replacing missing, but they are not necessarily the right or best choice for every patient. To be a candidate for dental implants, a patient must have generally good oral health with no current signs of periodontal disease. They must be healthy enough to undergo and heal from the dental implant. Additionally, patients must be willing and able to refrain from tobacco use throughout the entire treatment process.
Plus, patients must have adequate jawbone mass present to support a dental implant without risk of complication. If there is not enough jawbone present, Dr. Gerda can discuss the possibility of bone grafting to build up the jawbone.
Schedule a Tooth-Replacement Consultation With Our Dentist in Columbus, Ohio
If you are interested in learning more about dental implants and other options for replacing your missing teeth, we encourage you to schedule a consultation with Dr. Gerda at Gerda Family Dental. Our dentist can discuss your goals, treatment expectations, and budget to help you determine the best restorative dentistry treatment plan for you.
To learn more or schedule an appointment, we welcome you to contact our office today.