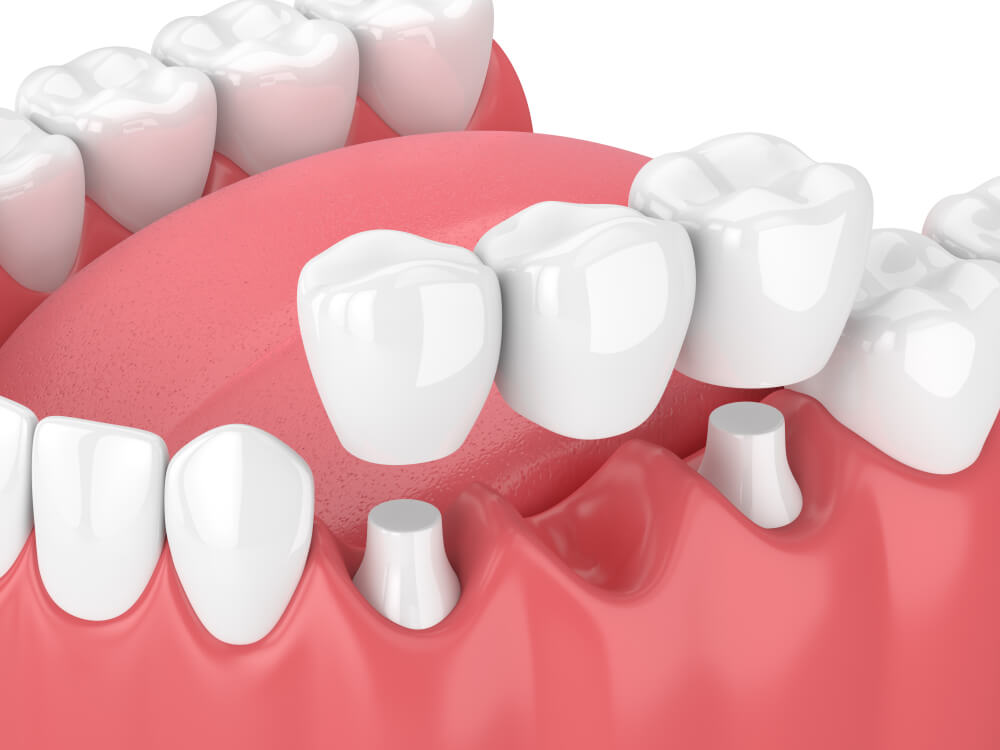 Modern advancements in dentistry have provided patients with a wide variety of options for replacing missing teeth. A dental bridge is a popular choice for patients who are missing several teeth in a row. 
What Is a Dental Bridge?
A dental bridge is a dental prosthetic used to replace one or more consecutive missing teeth. The bridge features two anchors on either end and a floating pontic of replacement teeth in its center.
Types of Dental Bridges
Gerda Family Dental offers a variety of different types of bridges, and the one that's best for you will depend on your treatment needs and preferences.
Traditional Bridge
A traditional bridge is a bridge that uses two dental crowns as anchors. The two teeth neighboring the gap are shaved down to accommodate the placement of the permanent crowns to support the bridge.
Implant-Supported Bridge
An implant-supported bridge uses dental implants as anchor points for the bridge rather than the traditional dental crowns. Implant-supported bridges offer the additional benefit of stimulating and helping to preserve the health of the patient's jawbone.
Maryland Bonded Bridge
A Maryland bonded bridge fixes to the natural teeth neighboring the gap with a system of cleverly placed wires and dental bonding.
Cantilever Bridge
A cantilever bridge is designed to fill in a gap of missing teeth when the teeth are missing at the end of an arch. As a result, this style of dental bridge has only one anchor point.
The Bridge Procedure: What To Expect When Getting a Dental Bridge
Getting a dental bridge varies slightly depending on the type of bridge the patient has chosen for their tooth replacement. The process always begins with a consultation, evaluation, and dental X-rays.
For a traditional dental bridge, the anchor teeth will be prepared at this time before a three-dimensional scan of the mouth is taken. (These patients are then fitted with temporary crowns while they await the placement of their bridge.)
If the patient is receiving an implant-supported bridge, they will need to go through the dental implant process before the scan can be taken.
For a Maryland bonded bridge, the dental scan will be taken right away.
Once the patient's mouth is prepped, a digital scan, along with the patient's information and design specifications, will be sent to a dental prosthetic manufacturer to be custom-made for a perfect fit and natural look in the patient's mouth.
Once the bridge is ready, we'll schedule the patient for a fitting appointment. During this appointment, the dental bridge will be permanently cemented to the anchor teeth or to the dental implants or fixed with wires and dental bonding for a natural look.
Comprehensive Smile Restoration With Our Columbus Dentist
Whether you're missing one tooth, multiple teeth, or most of your teeth, there are a variety of tooth-replacement treatment options that can be used to restore your smile's form and function while creating a look that you're proud to show off.
To learn more about dental bridges and other tooth-replacement treatment options available for you, we welcome you to contact our office to schedule a smile restoration consultation with Dr. Gerda.