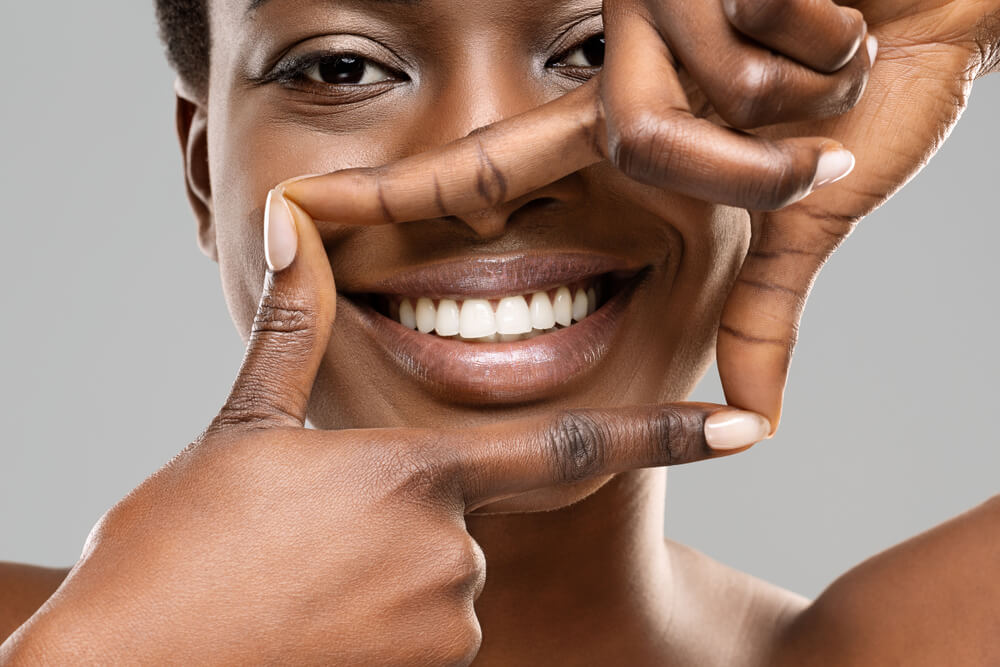 One of the simplest ways to revitalize the look of your smile is by whitening and brightening your teeth. At Gerda Family Dental, we have a variety of professional teeth whitening treatment options for our patients to refresh their look.
What Causes Tooth Discoloration?
Tooth discoloration is fairly common and often occurs as a result of staining. Teeth can easily become stained when a person consumes highly pigmented foods and beverages such as chocolate, tea, coffee, red wine, berries, candy, colas, and other foods and drinks that contain dyes.
Teeth can also become stained and yellowed from using tobacco products.
Additionally, factors such as age, certain medications, and oral hygiene practices can also have an impact on tooth discoloration.
How To Get Whiter, Brighter Teeth
There are a variety of ways patients can get whiter and brighter teeth. The best way to do this is to avoid things that cause tooth discoloration and to practice good oral hygiene.
Over-the-Counter Whitening Products
If your teeth already have stains, there are several options for removing stains and brightening your smile. These include over-the-counter whitening products such as toothpaste, mouthwash, whitening gels and trays, whitening strips, foams, and more.
If you choose to use over-the-counter whitening products, we strongly recommend sticking to only products that have been evaluated and approved by the American Dental Association. This ensures that the products will be effective and safe for you to use.
Professional Teeth Whitening Treatments
If over-the-counter teeth whitening products are not producing desirable results, then you can turn to professional teeth whitening treatments that can only be accessed through a dental office.
Professional Teeth Whitening With Gerda Family Dental
Gerda Family Dental offers patients professional whitening with two different at-home, professional teeth whitening treatment systems. These systems include:
Opalescence Take Home Kits
Colgate Professional Home Whitening With Light
Both of these kits offer professional-strength whitening ingredients and dentist-provided use instructions tailored to your specific whitening goals and needs.
Why Choose Professional Teeth Whitening Treatments?
Professional teeth whitening treatments offer superior results compared to over-the-counter whitening products.
Professional teeth whitening treatments are:
Always safe to use
Easy to use
Convenient
Stronger than over-the-counter whitening products
Highly effective
Prescribed to achieve your desired results
Plus, you'll achieve results with fewer treatment sessions than over-the-counter products. When working with a dentist to whiten your teeth at home, you'll get the whitening results you desire with fewer treatments and less worry while you relax in the comfort of your own home.
How To Make Your Bright, White Smile Last
To maintain your whiter and brighter smile, we recommend avoiding highly pigmented foods and drinks and refraining from tobacco use. Additionally, you can use an American Dental Association-approved toothpaste with whitening ingredients when brushing your teeth to help mitigate new stains daily.
Comprehensive Cosmetic Dentistry Services in Columbus, Ohio
You might be surprised how big of a difference a brighter, whiter, stain-free smile can make to improve your overall appearance. At Gerda Family Dental, however, we offer a wide variety of cosmetic and restorative dentistry services that can be used, along with teeth whitening, to improve your smile's appearance and health.
To learn more about our professional teeth whitening treatments or to schedule a smile makeover consultation with Dr. Gerda, we welcome you to contact our dental office in Columbus today.