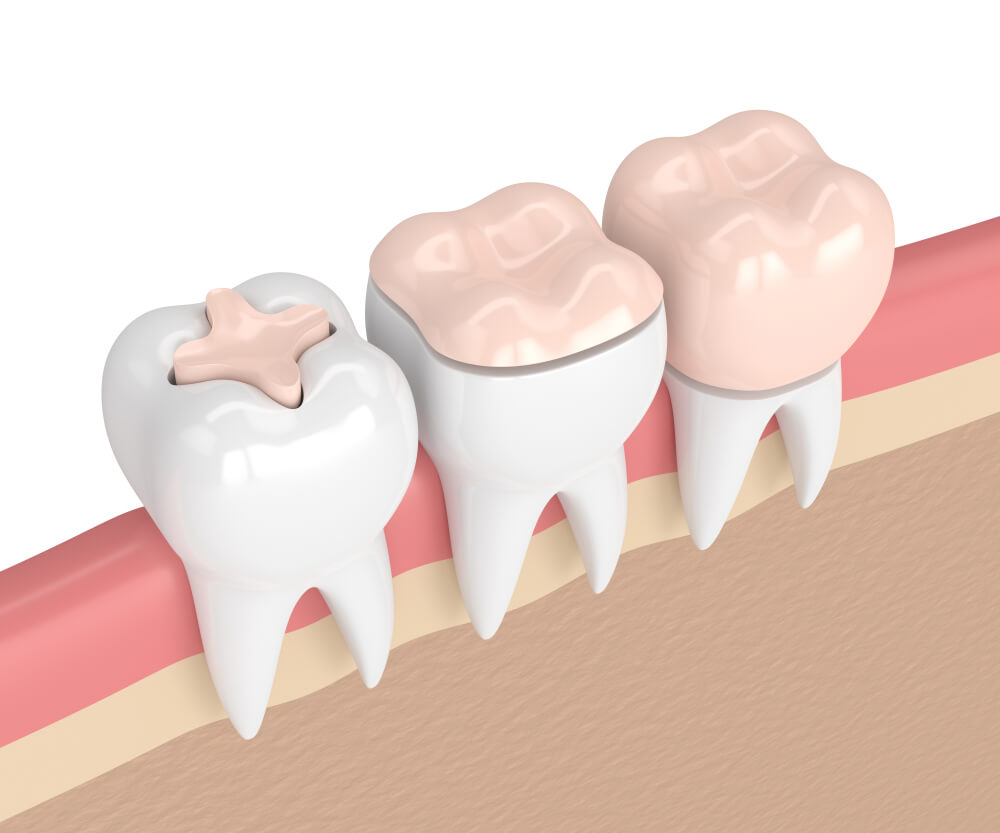 At Gerda Family Dental, we have a wide variety of dental treatments that can be used for both restorative and cosmetic purposes. For example, inlays and onlays are two treatment options that take a conservative approach to restoring and improving the look of a patient's teeth.  
What Are Inlays and Onlays?
Inlays and onlays are dental restorations typically manufactured from 100% porcelain and dyed to match a patient's surrounding tooth.
Inlays are designed to cover or fill the entire central part of a tooth's chewing surface, extending up to the tooth's cusps (outer ridges).
Onlays are designed to cover or fill the entire chewing surface of a tooth, extending beyond the tooth's cusps.
Inlays and onlays are intended to protect teeth from further damage, decay, and infection while restoring teeth to their natural shape.
When You Might Need an Inlay or Onlay
An inlay or onlay is a conservative treatment approach. Dr. Gerda may recommend an inlay or onlay when a tooth is too damaged (due to injury, decay, disease, age, or poor prior dental work) to be adequately treated with a regular dental filling but not so severely damaged that it requires treatment with a root canal and dental crown.
What To Expect When Getting an Inlay or Onlay
Getting an inlay or onlay begins with a consultation, digital dental X-rays, and an examination. Dr. Gerda can then begin preparing the tooth to be treated.
This process is somewhat similar to having a cavity treated. It involves drilling the tooth to remove any areas of decay and infection in addition to contouring the chewing surface of the tooth, if necessary.
Once adequately prepped, we take digital scans of the patient's mouth and send those specifications to a dental device manufacturer to fabricate an inlay or onlay designed to fit the treatment tooth perfectly while also creating a comfortable, natural-feeling bite for the opposing tooth.
We then seal the tooth with a temporary filling to protect it and prevent any sensitivity from occurring while the inlay or onlay is created.
Once ready, we schedule the patient for their final appointment. During this appointment, the targeted tooth is cleaned and dried, and the inlay or onlay is permanently fixed with dental cement.
All steps of the treatment process take place with the targeted treatment area fully numbed with a local anesthetic to ensure our patient experiences no pain or discomfort during the treatment process.
Smile Makeovers With Restorative and Cosmetic Dentistry in Columbus, Ohio
If you have a tooth with extensive damage, decay, or old compromised dental work, we encourage you to schedule a consultation with our dentist in Columbus. Dr. Gerda can evaluate your tooth, take a set of dental X-rays, and talk with you about your full scope of treatment options. If the inner pulp of your tooth has not yet been exposed to bacteria, then an inlay or an onlay might be the best treatment option for you.
To learn more or schedule a consultation, we welcome you to contact Gerda Family Dental today.