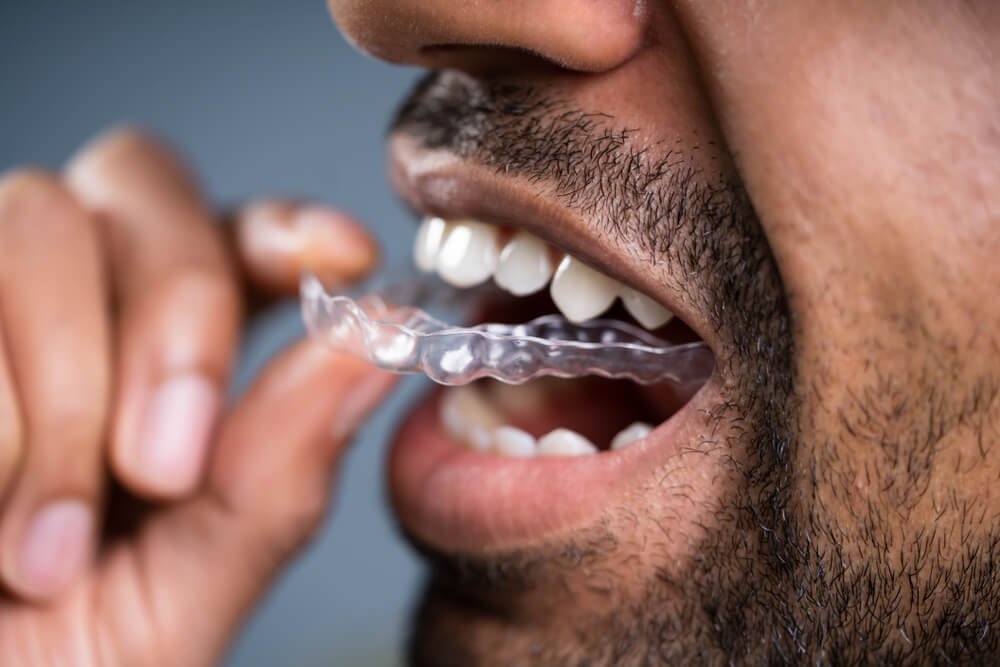 At Gerda Family Dental, we're proud to provide protective treatment to our patients who suffer from sleep bruxism with nightguards fabricated through our advanced impressionless dentistry. 
What Is Sleep Bruxism?
Sleep bruxism is a condition characterized by grinding the teeth and/or clenching one's jaw during sleep.
What Causes Sleep Bruxism?
Sleep bruxism does not have an exact known cause. However, some factors seem to increase a person's risk for the condition. These include genetics, as bruxism seems to have a hereditary component that runs in families. Additional factors that seem to increase the risk for sleep bruxism include:
Daytime stress and anxiety
Temporomandibular joint disorders
Sleep apnea
Malocclusion (abnormal bite) and/or crooked teeth
Alcohol consumption
For many people who experience sleep bruxism, more than one factor is at play in the condition.
How To Know If You Have Sleep Bruxism
It can be difficult to tell if you have sleep bruxism because it occurs while you are sleeping. Some patients suspect they have bruxism because their partner has observed them grinding their teeth or clenching their jaw. Others experience symptoms from teeth grinding when they are awake. These symptoms include:
Headaches
Ear, jaw, or face pain
Sensitive teeth
Chipped or broken teeth
Worn teeth
Receding gums
Additionally, during a dental examination, Dr. Gerda can recognize telltale wear patterns that occur on a patient's teeth due to teeth grinding and/or jaw clenching. Often, patients first hear about sleep bruxism during their dental examinations.
How Our Dentist Can Help With Sleep Bruxism
Treating the underlying cause of sleep bruxism can be challenging due to the murky nature of its underlying cause. Some patients find relief by practicing stress-relief strategies during the day and before bed.
Our dentist recommends that patients protect their teeth from grinding and reduce the tension from clenching with a custom-made nightguard (also called a mouth splint). A nightguard is a plastic dental device that fits over the top arch of a patient's teeth. It's worn during sleep to protect both rows from the damage and excessive wear associated with bruxism.
What's the Process of Getting a Nightguard?
At Gerda Family Dental, we use impressionless dentistry to fit our patients for nightguards. This means there's no need to sit with sticky trays of dental putty to take impressions of your teeth.
Instead, we simply scan your mouth with a digital scanner to record the precise three-dimensional specifications of the oral anatomy. This information is then sent to a fabrication lab where your custom-designed nightguard is made exactly to your personal specifications for a perfect fit.
Once your nightguard is ready, we'll have you come into our office for a fitting and make any final adjustments to the device, if necessary. Before sending you home, we'll also provide you with instructions for wearing, cleaning, and storing your nightguard.
Nightguards and More Preventive Dentistry With Our Dentist in Columbus, Ohio
If you think you might have sleep bruxism or have already been diagnosed but do not yet have a nightguard to protect your teeth, we encourage you to schedule a consultation with Dr. Gerda and her team at Gerda Family Dental.
She'll discuss your symptoms and examine your teeth for wear patterns typically associated with sleep bruxism to determine the right type of nightguard for you. Once evaluated, we'll scan your teeth and order your new nightguard right away.
To learn more or schedule a bruxism and nightguard consultation, we welcome you to contact our dental office in Columbus today.