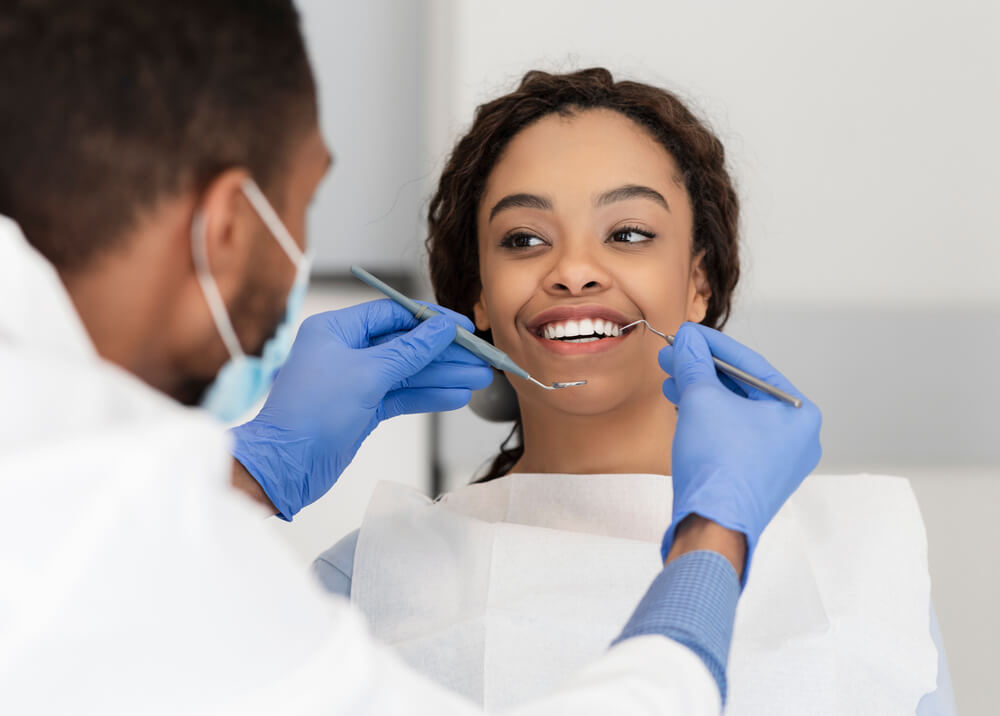 Dr. Gerda and her team at Gerda Family Dental believe in taking a proactive, preventive approach to every patient's dental care, regardless of age and current oral health. 
Preventive care received during a routine dental examination and hygiene appointment can help patients keep their teeth healthy and beautiful for life while safeguarding their general health from the risks associated with poor oral health.
The Importance of Routine Dental Exams and Cleanings
While at-home oral hygiene is essential to good oral health, there is only so much a toothbrush, toothpaste, and dental floss can do. While these oral hygiene steps are vital to good oral health, they are not typically strong enough to remove tartar that has hardened and built up on the surface of the teeth. Professional dental cleanings are necessary to remove this accumulation to protect the teeth from decay and the gums from infection.
Additionally, regular dental exams ensure that our dentist detects, diagnoses, and treats oral health problems almost as soon as they arise. This means less invasive and costly treatments are needed to resolve oral health issues, and many issues can even be reversed entirely if addressed early enough.
What To Expect During a Prophylactic Teeth Cleaning
During a professional teeth cleaning, one of our skilled dental hygienists will work with you to scale and polish your teeth. This involves using special dental tools designed to remove plaque and hardened tartar (also called calculus) from the surfaces of the teeth. We then polish the teeth using a circular, rotating brush and polishing paste in the flavor of your choice.
If your dental hygienist notices any areas of concern (such as places where your gums bleed easily) while cleaning your teeth, she will make a note to share this information with our dentist and also provide you with advice for improving your oral hygiene routine in this area.
What To Expect During Your Dental Examination
During your dental examination, you'll meet with Dr. Gerda and have a chance to talk with her about any concerns you might have or symptoms you've been experiencing. She'll then examine your teeth and gums and perform an oral cancer screening.
If she sees anything of concern, she will discuss it with you and talk with you about the next steps for your care which might include diagnostic digital X-rays and further treatment.
Our Dedication to Oral Hygiene, Dental Care, and Patient Education
We're here to help you achieve the best possible oral health, providing you with guidance specific to your current oral health, medical history, lifestyle, and goals. In addition to brushing and flossing regularly, we might also recommend abstaining from tobacco use, cutting back on alcohol intake, or taking measures to better manage systemic health issues, like diabetes, that can harm your oral health.
When To Schedule a Routine Dental Appointment
Healthy adults should visit the dentist every six months for a routine cleaning and dental hygiene appointment. Developing children and patients with ongoing oral health concerns might need to visit more regularly for maintenance cleanings and more frequent examinations.
Comprehensive Preventive Dentistry in Columbus
At Gerda Family Dental, we believe in taking a proactive approach to every patient's dental care. We're proud to provide our patients with comprehensive preventive and general dentistry services designed to keep their smiles healthy for life. To learn more about preventive dentistry or to schedule your next dental examination and hygiene appointment, we welcome you to contact our dental practice in Columbus today.